Forget the coffee, what will Starbucks do to Italy's environment?
An association of Italian activists has something to say about Starbucks coming to Italy – but it has nothing to do with the taste of their coffee.
When Starbucks announced it would finally open its first ever Italian branch in Milan this September, it pledged to make its debut in the home of espresso with "humility and respect".
Comuni Virtuosi, an association of environmentally responsible local authorities across Italy, hopes to hold the US mega-chain to its promise. It's not asking Starbucks to change its coffee – just what it comes in.
The association is calling on Starbucks' American management not to use any disposable cups in its Milan roastery, and instead serve drinks exclusively in in-house crockery or reusable to-go mugs.
"A company made of 28,000 stores distributed in 77 countries, being attended daily by millions of people, has a huge potential to make a difference contributing to tackle the rising tide of coffee cup and other disposable tableware waste," Comuni Virtuosi wrote in an appeal addressed directly to Starbucks founder Howard Schultz and backed by NGOs including Greenpeace Italy, WWF Italy and Zero Waste Europe.

By serving coffee in real cups, Starbucks would simply be following the example of thousands of Italian cafés and bars that pour millions of espressi each day into washable cups and glasses for customers to drink as quickly or as slowly as they like.
"Our way of drinking coffee til now is much more sustainable than the takeaway coffee to go, that's sure," Comuni Virtuosi spokesperson Silvia Ricci told The Local.
While traditional crockery remains more common in Italy than single-use cups, she says, the rise of fast-food chains – such as McDonald's, which already has over 300 McCafés across Italy – means that disposable tableware is becoming more and more common.
"It can be a chance that, through Starbucks, we change some of the more sustainable ways that we are consuming our expresso," Ricci commented. "The point is that if we are being influenced much more by foreign chains coming to Italy, of course we can slowly change our habits."
Like many countries, Italy has gradually swapped its traditional patterns of consumption for less sustainable ones. From buying pre-wrapped produce at supermarkets instead of loose at greengrocers to ordering meals delivered at home instead of in a restaurant or shopping online for products shipped in layers of plastic and cardboard, many of our modern conveniences – just like ordering coffee to go – require more packaging and generate more waste.
And while efforts to recycle or switch to biodegradable materials are welcome, better for the environment by far is using less to begin with.
When Starbucks comes to Italy, it has the opportunity to set a good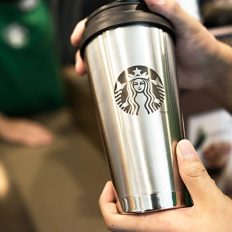 example, says Comuni Virtuosi. Instead of being offered cups made of paper or bioplastic that still go in the bin after one use, or inviting customers to recycle plastic ones – a costly process that generates yet more emissions – the association would like to see Starbucks present its clientele with a simple choice: buy a reusable mug, or drink your coffee in the café.
"If you look at what Starbucks tried [in other countries], like latte levies [a small extra fee for disposable cups] or a discount for using the [reusable] to-go cup – this is not working, it will take ages and ages," Ricci says.
"I'm aware that it's difficult to start a revolution in lifestyle habits, especially in countries where they are well-established, but in Italy we have the chance to start on the right foot."
But what about the other great Starbucks debate: will Italians drink American coffee?
"I'm not sure whether we would like so much the American coffee," Ricci laughs, "because we are used to drink not so much liquid, you know?"
Perhaps there are more ways than one that Starbucks should cut back if it wants to make it in Milan.
Jessica Phelan-The Local Italy
READ ALSO:
Why it is so hard to design a better paper cup?
We won't save the Earth with a better kind of disposable coffee cup
Non salveremo la Terra con una "migliore " tazza di caffè usa e getta
Italians ask Starbucks to serve coffee in reusable cups -Treehugger
Why coffee in Italy is a culture you must taste to understand
War on plastic leaves manufacturers clutching at straws