Starbucks and Howard Schultz: please do not introduce disposable cups in Italy
The Italian association of green cities (Comuni Virtuosi) appeals to Howard Schultz, the outgoing of Starbucks and his successor Myron Ullman not to introduce any disposable cups or glasses in its first location in Italy, in the heart of Milan's city center and become a leading example in Europe and in the whole world.
The appeal is signed and supported by national and international partners such as: Greenpeace Italy, WWF Italy, Zero Waste Italy, Zero Waste Europe and the Reloop Platform, a pan-European multi-stakeholder platform supporting circular economy.
Dear Howard Schultz,
The opening of the Reserve Roastery your first location in Italy, in the heart of Milan's city center, which you supported, is quickly approaching. We learned from your media statements that the opening in Milan has had to wait ten years because, "to enter in the homeland of coffee and bars", one had to do it "with humility and respect" for the Italian culture.
It's well known, although not very much in Italy, that Milan was the city that "changed the course of your life" in 1983 inspiring you to create Starbucks – re-imagining the Italian coffeehouse tradition in America. Before you step down as executive chairman and leave the group in Myron E. Ullman hands, we ask you to take a leadership role on the last action – your legacy – action that is greatly anticipated by non-governmental groups, local governments, the European Commission and citizens all over the world committing to fight the plastic scourge and to reduce the usage of all single-use items. Please lead this green revolution starting in Milan by eliminating the use of disposable cups and glasses.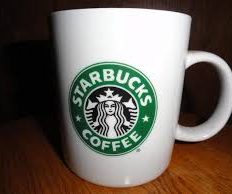 A company made of 28 thousand stores distributed in 77 countries, being attended daily by millions of people has a huge potential to make a difference contributing to tackle the rising tide of coffee cup and other disposable tableware waste.
We are an association of Italian green municipalities (Associazione Comuni Virtuosi) committed to a sustainable development of our territories, and, as far as waste management is concerned, we live on our skin what it means to handle an increasing waste production due to changed lifestyles and consumption with little financial resources.
Until waste production won't be prevented at source by designing circular products and services, the efforts and economic resources invested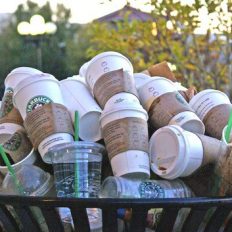 by local and national governments will continue to be used to alleviate the symptom of a problem, without affecting the causes. Waste management costs drains a significant part of the municipalities' budgets (resulting from taxes payers) that we could allocate instead for other social and environmental projects badly needed by our communities.
We as mayors and city councilors are willing to promote closed-loop or circular production models in our municipalities right now, without waiting for the measures contained in the European directives part of the circular economy package, to be implemented by our central government within a couple of years. As time is running out for limiting global temperatures by 2 ° we believe action has to be taken now, at national and local government s and the whole industry must contribute doing well from scratch, rather than less badly.
We appreciate the efforts made by Starbucks in promoting a reusable cup and the 5p levy applied in some coffee shops in London to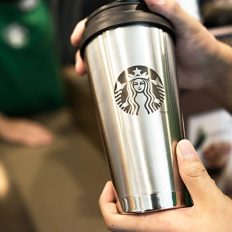 discourage the single use cup serving, as well as the huge financial resources allocated in the NextGen Cup Challenge project to develop disposable cups that can be recycled or composted. However, a recycling policy does not prevent, like a reuse strategy, the consumption of raw material, does not avoid the environmental impacts of disposable packaging -like waste and emissions- and the financial burden of managing waste for local governments. Especially if we think that each year an estimated 600 billion paper and plastic cups are distributed globally.
The case of the independent coffee chain, Boston Tea Party in the UK eliminating all disposable cups from this month in its shops, confirms the feasibility of a shift to reusable cups and glasses.
According to UNEP to support the demand for resources from the world's population in 2030 we will need 40% more wood and cellulose fibers.
In Italy we will be able to avoid any kind of corrective action and efforts by starting off on the right foot, by serving drinks, aperitifs, in
reusable ceramic crockery or in reusable to go containers. Combining thus the blend of American coffee specially designed for Italy and the way we drink coffee in a more sustainable offer.
We look forward to meet you on the day of the inauguration of the Reserve Rostery in Milan, but we are confident of receiving a positive response to our proposal before that date.
This appeal is signed and supported at European level by: Reloop Platform, Zero Waste Europe and Greenpeace Italy, WWF Italy, Zero Waste Italy, at a national level.
We also trust that the mayor of Milan Giuseppe Sala will be the bearer of our appeal in the interest of his citizens and the urban décor of the city.
Sincerely yours
Associazione Comuni Virtuosi
Board of Directors
The Italian version of the appeal
IN THE PRESS
We won't save the Earth with a better kind of disposable coffee cup
Forget the coffee, what will Starbucks do to Italy's environment? -The local Italy
Italians ask Starbucks to serve coffee in reusable cups -Treehugger